Parakeets, with their vibrant plumage and cheerful chirping, have become beloved pets in households around the world.
However, the question of their natural habitat often arises: are parakeets tropical birds? In this article, we will delve into the geographic range of parakeets and shed light on their origins.
Parakeets, often affectionately called budgerigars, budgies, or keets, have earned a well-deserved reputation for their captivating and vibrant plumage, as well as their lively and engaging personalities. 
With their striking green and yellow feathers, one might easily assume they originate from the lush, tropical paradises typically associated with such vivid colors. 
In this article, we embark on a journey to discover the native lands of these endearing avian companions. By exploring the regions in which they naturally thrive, we aim to unveil the specific environmental conditions that support their existence. 
It is a testament to the resilience and versatility of these remarkable avian companions, showcasing their ability to flourish in environments that may be quite distinct from the picturesque imagery their vibrant appearance conjures.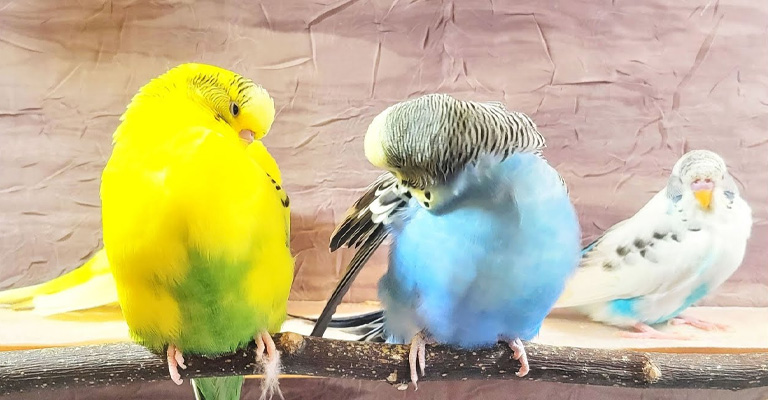 Are Parakeets Tropical Birds?
There's a common misconception that parakeets are tropical birds, often associated with lush rainforests and palm-fringed paradises. Let's explore the origins and geographic range of parakeets to determine whether they are indeed tropical birds.
The Origin of Parakeets
Parakeets are native to Australia, a continent not typically associated with the tropical image that the term "parakeet" might evoke.
They belong to the genus Melopsittacus, and the most well-known species is the budgerigar, scientifically referred to as Melopsittacus undulatus. 
These birds are primarily found in the interior regions of Australia, a continent known for its diverse ecosystems, from arid deserts to temperate woodlands.
The name "budgerigar" is thought to have been derived from an Aboriginal Australian language, where "budgery" means "good" or "tasty," and "gar" means "to eat." 
This name reflects the fact that these birds are often considered good to eat by both the indigenous people of Australia and some of the country's early European settlers.
The Geographic Range of Parakeets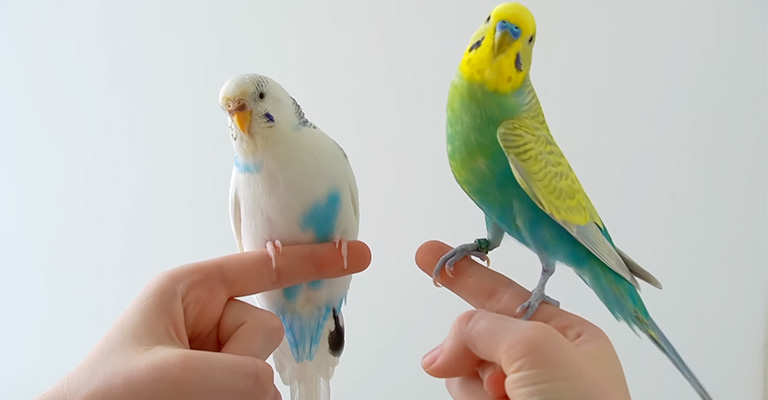 Parakeets, specifically budgerigars, are not confined to one particular habitat type. Their natural range extends across Australia, where they are known to inhabit a variety of environments, from arid regions to more temperate zones. 
Here's a closer look at the different parts of Australia where these birds can be found:
Arid Regions
Budgerigars are well-adapted to arid and semi-arid environments. They thrive in the vast, open landscapes of Australia's interior, where they can be seen in areas with sparse vegetation, such as grasslands and scrublands.
Temperate Zones
Parakeets are not limited to purely arid conditions. They are known to inhabit regions with a more temperate climate, such as woodlands and forests. In these areas, they may be found near water sources like rivers and streams.
Migratory Behavior h4 Budgerigars exhibit a degree of migratory behavior, moving in response to changing conditions and the availability of food and water. Their movements can be influenced by rainfall patterns, which trigger breeding and migration.
The Misconception of Tropical Parakeets
The misconception that parakeets are tropical birds likely stems from the fact that they are often kept as pets in many parts of the world. 
People are introduced to these birds in colorful cages, often surrounded by lush, tropical plants, which can create an association between parakeets and tropical settings. 
However, it's essential to distinguish between the habitat preferences of parakeets in the wild and their adaptability as pets.
As pets, parakeets can be comfortably kept in a wide range of environments, from temperate to tropical, provided they are kept at comfortable room temperatures. However, this does not alter their natural habitat in Australia, which includes arid, semi-arid, and temperate regions.
The Significance of Adaptability
The adaptability of parakeets, both in the wild and as pets, is a testament to their resilience and ability to thrive in different settings. 
In their native habitat, they have evolved to cope with the challenges posed by arid conditions, including the ability to find food and water in a harsh environment. This adaptability has contributed to their success in a range of Australian landscapes.
As pets, parakeets have gained popularity due to their friendly and social nature. They are often chosen as ideal companions for their ability to adapt to various living conditions. Whether in a temperate household or a tropical climate, they are cherished as delightful and entertaining pets.
Conservation Concerns
Parakeets, particularly budgerigars, are not currently considered endangered. However, like many native Australian species, they face conservation concerns related to habitat destruction, drought, and the impacts of climate change. 
Additionally, the illegal trapping and export of wild parakeets for the pet trade have caused population declines in the past.
Conservation efforts are vital to ensure that these birds continue to thrive in their native habitats. Protecting their arid and semi-arid environments, preserving water sources, and regulating the pet trade are essential steps to safeguard their future.
What Is the Right Climate for Parakeets?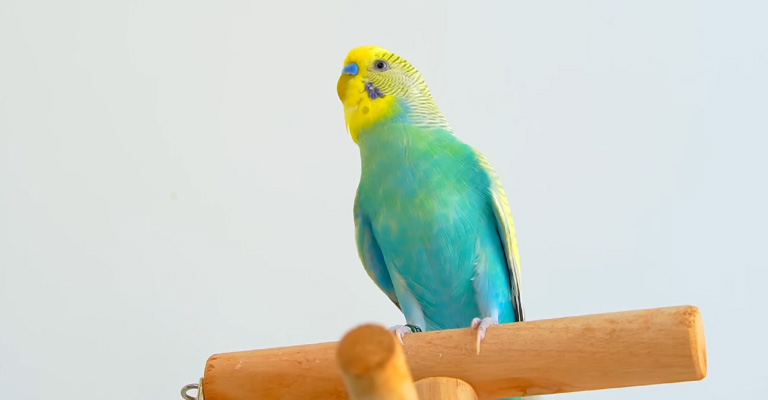 Parakeets, specifically the budgerigar (Melopsittacus undulatus), are native to the vast and diverse landscapes of Australia. As such, their natural habitat spans a wide range of climates and environmental conditions. 
Understanding the climate for parakeets is essential for appreciating their adaptability and the factors that influence their survival and behavior.
Arid and Semi-Arid Regions
One of the primary misconceptions about parakeets is that they exclusively inhabit tropical environments. 
In reality, the natural habitat of budgerigars includes arid and semi-arid regions, which are characterized by low precipitation and often challenging living conditions. These areas have distinct climate features:
Limited Precipitation
Arid and semi-arid regions receive relatively little rainfall throughout the year, with precipitation levels typically averaging less than 20 inches (50 centimeters) annually.
Harsh Summers
The summers in these regions are typically hot, with temperatures frequently exceeding 90°F (32°C) and sometimes soaring above 100°F (38°C).
Cold Winters
Winters in arid and semi-arid areas can be surprisingly cold, with temperatures occasionally dropping below freezing, especially during the night.
Despite these seemingly inhospitable conditions, budgerigars have evolved to thrive in such environments. Their adaptability to arid climates is a testament to their ability to find food and water sources and endure temperature fluctuations.
Foraging in Arid Environments
Budgerigars are primarily granivorous, meaning their diet primarily consists of seeds. In their natural habitat, they forage for seeds from various grasses and shrubs that are well-suited to arid conditions. 
During periods of drought or low food availability, they may travel extensively to find suitable food sources.
Seasonal Migrations
Budgerigars are known to undertake seasonal migrations within Australia. These migrations are often influenced by changes in weather patterns, especially the availability of rainfall. 
When there are favorable conditions with sufficient rainfall, it triggers breeding and the emergence of food sources, prompting budgerigars to embark on migrations to these areas.
Adapting to Temperature Extremes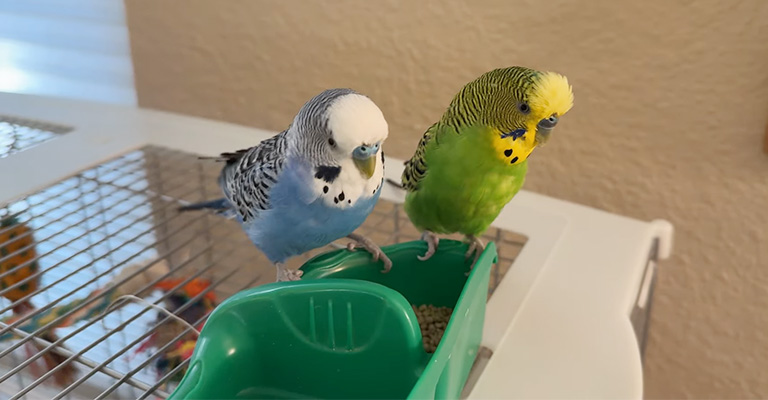 The adaptability of budgerigars extends to temperature extremes. While their native regions experience both sweltering summers and chilly winters, they have developed strategies for coping with these temperature fluctuations.
Seeking Shade
During hot summer days, budgerigars seek shade to escape the scorching sun. They often congregate near trees or shrubs to stay cool.
Basking in the Morning Sun
In cooler seasons, budgerigars are known to bask in the morning sun to warm up and increase their body temperature.
Using Trees as Roosts
Trees and tree hollows provide shelter from the cold at night. Budgerigars gather in these roosting sites for communal warmth and protection.
Water Sources
One of the most critical aspects of their adaptation to arid and semi-arid environments is their ability to find water. Budgerigars are highly skilled at locating and utilizing water sources, even in regions with limited surface water. 
They rely on their foraging trips to locate areas with available water, such as seasonal puddles, waterholes, or rivers.
Human Impact
While budgerigars have evolved to thrive in arid and semi-arid conditions, they are not immune to the challenges posed by human activities. Changes to their natural habitat, including land clearance, agriculture, and urban development, can impact their food sources and breeding sites. 
Additionally, introduced species, such as feral cats and European starlings, pose threats to budgerigar populations.
Conservation Efforts
Conservation efforts are essential to protect budgerigars and their natural habitat. Preserving and restoring their arid and semi-arid environments, especially areas with essential water sources, is crucial for their survival. 
Habitat conservation, control of invasive species, and responsible land management practices can help safeguard these birds.
Parakeets as Pets
Understanding the natural climate and habitat of budgerigars is also important for pet owners. When keeping parakeets as pets, it's essential to provide them with suitable living conditions that mimic their natural habitat. 
This includes maintaining comfortable room temperatures, offering a balanced diet, providing access to clean water, and ensuring a safe and enriched environment for their well-being.
FAQs
Do parakeets prefer hot or cold weather?
Parakeets, particularly budgerigars, tend to tolerate warmer weather better than cold temperatures. They are native to a wide range of climates, from arid and semi-arid regions to more temperate zones, but they are generally more comfortable in warmer conditions.
How can I keep my pet parakeet comfortable during hot weather?
To keep your pet parakeet comfortable in hot weather, provide shade, ensure access to clean and cool water, and avoid direct sunlight. Avoid placing their cage near drafts and use cooling devices when necessary.
What should I do if my pet parakeet appears cold or stressed in cooler temperatures?
If your pet parakeet seems cold or stressed in cooler temperatures, ensure their environment is within the temperature range of 65°F to 85°F (18°C to 29°C). Provide additional warmth through safe heating devices, if needed, and monitor their behavior closely.
Is it safe to take my pet parakeet outside in mild weather?
Taking your pet parakeet outside in mild weather can be safe if you use a secure cage or harness to prevent escapes and exposure to potential hazards. Avoid extreme temperatures, drafts, and direct sunlight.
How do wild budgerigars cope with temperature extremes in Australia?
Wild budgerigars cope with temperature extremes in Australia by seeking shade, panting in hot weather, basking in the sun during cooler mornings, and roosting together to stay warm at night. Their adaptability to a variety of climates has contributed to their success in diverse habitats.
Conclusion
The geographical range of parakeets is truly a testament to the intriguing diversity of their habitats. These small, colorful birds have established their presence in a wide array of environments, sometimes defying the conventional image of tropical birds. 
This versatility in their choice of homes has significantly contributed to their popularity as pets worldwide. The ability of parakeets to adapt to various conditions and continue to thrive has made them beloved companions in countless households. 
As we gain insight into their natural habitats and their ability to adapt, we also acquire a deeper understanding of how to care for these delightful avian friends.
This knowledge enables us to provide the best possible care for them in our homes, ensuring their well-being and happiness. 
The bond between humans and parakeets exemplifies the profound connections that can be formed between different species, revealing the beauty of the natural world and the harmony that can exist between creatures from varied corners of the Earth.