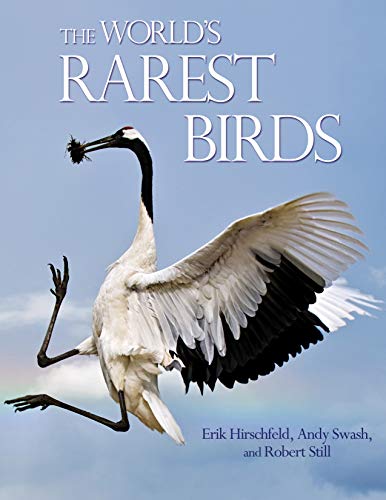 Three years in the making, this unique and beautifully illustrated book highlights the plight of the rarest and most threatened birds on Earth. It has been produced to support BirdLife International's Preventing Extinctions Programme.
Every four years, BirdLife International undertakes a comprehensive review of the threat status of all the world's 10,000 or so bird species on behalf of the International Union for Conservation of Nature (IUCN).
The most threatened are categorized as Critically Endangered or Endangered, which means that they are likely to become extinct in the foreseeable future unless urgent action is taken to conserve them.
In addition, four species are categorized as Extinct in the Wild and now exist only in captivity. The latest review was completed in 2012 and lists a frightening total of 590 species in these categories.
The World's Rarest Birds is a landmark publication that illustrates all these birds. It features stunning photographs of 515 of them – including images from two prestigious international photo competitions organized specifically for this book.
For the 75 species of which a photo could not be obtained, the highly acclaimed artist Tomasz Cofta has created wonderfully realistic illustrations. The book also covers 60 species that are so poorly known that their threat status cannot be assessed (the so-called Data Deficient Species).
Introductory chapters explain the threats birds face, how their threat status is assessed, and how this information is used to set conservation priorities. The book is divided into seven regional sections – Europe and the Middle East; Africa and Madagascar; Asia; Australasia; Oceanic Islands; North America, Central America, and the Caribbean; and South America.
Each section highlights particular conservation challenges and threatened bird hotspots, and includes a comprehensive illustrated directory of the most threatened birds, giving a concise description of their distribution, status, population, key threats, and conservation needs.
Quick Response (QR) Codes are included for every species, linked directly to the relevant species factsheet on BirdLife International's website, where detailed, up-to-date information is freely available.
Here are the technical details about the book:
Large format, hardback with dust jacket (8½ x 11 inches / 216 x 279 mm)
360 pages
877 color photos (the work of 321 photographers from around the world)
103 colour illustrations by Tomasz Cofta
610 color maps
ISBN: 978-0-691-15596-8
Published by Princeton WILDGuides
Recommended price is just $45 or £34.95
 CLICK HERE TO ORDER THE WORLD'S RAREST BIRDS 
The World's Rarest Birds could not have been produced without the contribution of many people. Grateful thanks are due to all the photographers who generously submitted their images and to the sponsors of the photo competitions – Minox, Princeton University Press, Lynx Edicions, WILDGuides, and BirdLife International.
Thanks are also due to County Ornithological Services of Maidenhead, Berkshire, UK, for enabling complimentary copies of the book to be sent to BirdLife Partners around the world.
The World's Rarest Birds is the successor to the Rare Birds Yearbook, which highlighted the Critically Endangered species and was published in 2007 and 2008. This proved to be very effective in raising funds to support BirdLife's Preventing Extinctions Programme.
About the Authors
Christopher's vision for N.W. Bird Rescue is to create a safe haven for injured or orphaned wild birds and provide them with medical care until they can be released back into their natural habitat.
Under Christopher's leadership, the organization has made great strides toward achieving this goal by providing medical care, housing, food, and enrichment activities for thousands of birds every year. LinkedIn
Cyrus Juliet is a passionate bird-lover and conservationist. She has dedicated her life to protecting birds and their habitats. She has traveled the world to study, photograph, and document different species of birds in their natural habitats as well as advocating for their protection. Cyrus is a strong believer that by protecting our environment, we also protect future generations of birds.
As an environmental scientist with experience in environmental permitting and research, I am highly proficient in wetland identification and delineation, conducting surveys for plant and wildlife species conservation, monitoring water quality data, performing soil analysis, and other tasks related to protecting the environment. My expertise makes me uniquely qualified to help ensure that our planet is safeguarded from further harm. LinkedIn
Songbirds are a unique and fragile part of our environment, and their populations in North America have been declining for years. My research focuses on understanding the causes of this decline and how best to conserve these species.
I use a variety of scientific techniques – both in the field and in the lab – to study passerines, from banding birds to conducting experiments to collect data. My goal is to find solutions that will help stabilize songbird populations across the continent. LinkedIn
Jennifer Clem is an avid bird enthusiast and lover of nature. She currently works in Portland, Oregon at Jake's, a small business that specializes in bird-related products and services. Jennifer has been with Jake's since it opened its doors over three years ago, and she has gained a wealth of knowledge about birds during her time there.
Her passion for the feathered creatures is evident in her work – from the care she puts into each customer interaction to the incredible range of bird-related items she manages day-to-day. LinkedIn
Joanne Leone is a passionate animal lover who has dedicated her life to caring for furry friends. She has been working with animals since she was a young girl and finds tremendous joy in it. Her two sons are her pride and joy, but she never loses sight of her love for animals. Joanne hopes to continue to help animals in both the home and in the workplace, making sure they get the best care possible. LinkedIn
Kristin Albert is a remarkable individual who has devoted her life to the conservation of nature and its creatures. From her retirement as a chemist, she has become an avid conservationist, naturalist, birdwatcher, and nature observer.
She is highly skilled in using eBird and Merlin birding apps to help identify different species of birds. Her passion for photographing wildlife and the environment has led her to travel the world in order to capture unique moments in nature. LinkedIn
Residency-trained, board-certified bird specialist with a practice focused on comprehensive primary healthcare and progressive referral medical, surgical, and behavioral services for the companion bird, small mammal, or reptile. Specialties: American Board of Veterinary Practitioners (Avian Practice). LinkedIn
Matt Farnsworth is an experienced quantitative ecologist and project manager with an impressive two decades of experience in research, interdisciplinary collaboration, and leadership. He has worked closely with government, business, non-profit organizations, and academic institutions to develop innovative solutions for pressing environmental issues.
His knowledge and expertise in the field of ecology are unparalleled and his dedication to the environment drives him to make a positive impact on our planet. LinkedIn
Thomas Tingblad is a passionate bird lover who runs the Wild Bird Corner, a website dedicated to providing information about birds and how to care for them. He has been observing and studying birds since he was a child, and his passion for these creatures has only grown over the years. LinkedIn
More Books By The Authors
Britain's Mammals
Written by Robert Still, Andy Swash.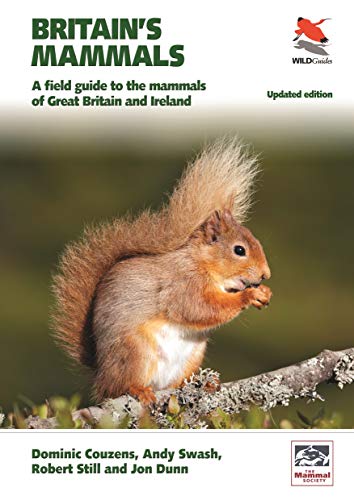 "Britain's Mammals" is a comprehensive guide to the identification, habitats, behavior, distribution, and numbers of the mammals found in Britain and Ireland.
It includes profiles of every mammal that can be encountered in the region, as well as established introduced and reintroduced species. The book was chosen as one of The Guardian's Best Nature Books of 2017 by Stephen Moss, who described it as "absolutely brilliant."
The book is praised for its clear drawings of tracks and signs, which include an accurate droppings identification chart, and for encouraging readers to test their new skills in the field.
The book is also noted for its stunning photographs that capture the charisma of the species as well as key identification features. The guide is considered to be accessible and easy to use for both old hands and newcomers alike.
The WILDGuides series, of which "Britain's Mammals" is a part, is seen as rapidly becoming the definitive format for UK field guides. Its clear, concise, and comprehensive format is considered to have set a new bar in the field guide arena.
It is an excellent field guide that is well-written and structured, and it is expected to appeal to both relative novices and those with a major interest in mammals.
The book is considered the standout option for anyone wanting a field guide or basic introduction to Britain's mammals. This is a book that should hardly hit the bookcase and be in constant use. It is highly recommended by many nature enthusiasts and experts in the field.
Britain's Birds
Written by Robert Still, and Andy Swash.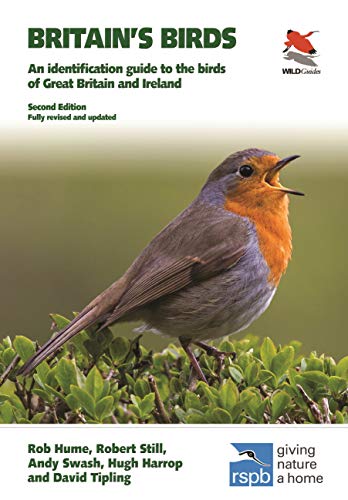 Britain's Birds is an excellent photographic guide to the birds of the UK and Ireland, written by Robert Still and Andy Swash. The book has received numerous accolades, including being named A Birdwatcher's Yearbook Best Bird Book of the Year.
The book is highly praised for its excellent photographs, which are of the highest quality, making it easy to identify bird species. The book covers all the birds ever seen in Britain, along with a few that may be escapees, with 3,600 photos.
The book is considered an indispensable aid in solving the complexities and riddles of birding. The second edition of the book includes 400 new photographs, a comprehensive revision and update of all species described, and records the changes in the birding landscape in the intervening years.
The book is considered to be the best photographic guide to Britain's birds, and the authors are praised for their ability to source pictures that show key identification points, which is considered an amazing feat.
The book is considered to be a brilliant book collection, a colorful, fact-filled introduction to the animals, insects, plants, and habitats that make watching wildlife so fascinating.
The book is not your average encyclopedia, it's the only one to cover every bird in every plumage ever recorded in the UK and Ireland, which makes it an absolute must-have for any birder's bookshelf.
The book is also recommended for those who wish to invest in both the book and its companion the "Pocket Guide" which is a lighter version of the book that can be carried in the field. Overall, the book is considered an excellent guide that is highly recommended by experts in the field.
Britain's Day-flying Moths
Written by Robert Still, and Andy Swash.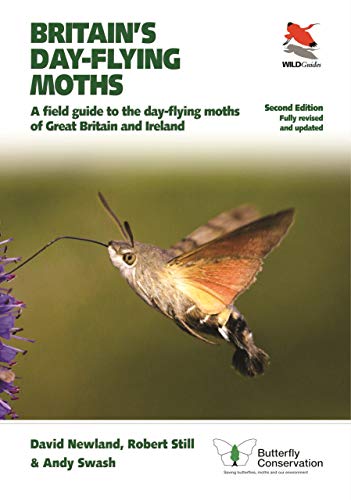 Britain's Day-flying Moths is a book that focuses on a selected group of moths, numbering over 2,500 species, making it accessible for the enthusiastic naturalist who hasn't made the leap to the expensive world of moth-trapping.
The book is written by Robert Still and Andy Swash, both experts in the field of natural history and ecology.
The book is praised for its clear and concise information, and for being up-to-date. Many reviewers find the book to be a perfect and fitting introduction to the world of moths, with exceptional photographs, packed with solid information and advice. The book is recommended for anyone contemplating to further their interest in Lepidoptera.
The book is beautifully produced and the authors are praised for their exceptional work in the field. The book is considered a must-have on the bookshelf or in a backpack for anyone interested in moths.
It is also recommended for birders and naturalists alike. The book is also considered to be a great value for its price point.